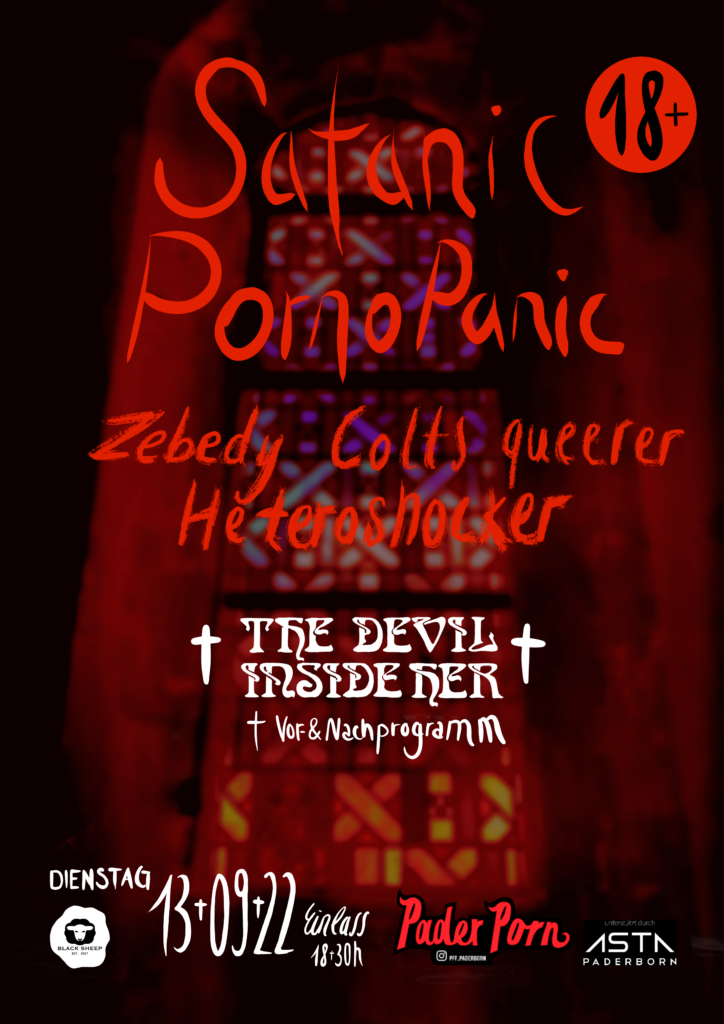 Betretet den Kreis! Im Paderborner Black Sheep (@blacksheeppb) möchten wir mit euch den Folk-Horror-Film THE DEVIL INSIDE HER aus den dunklen Ecken des Waldes hervorzaubern. Im Vorprogramm wird es dazu blasphemische 8mm-Screenings und eine Einführung geben. Danach Musik!
New England, 1826: Die Romanze zwischen Bauerntochter Faith und Viehbursche Jospeh entfacht den Zorn ihres puritanischen Vaters. Ihre eifersüchtige Schwester Hope beschwört derweil einen gut bestückten Walddämon, welcher die Bewohner der kleinen Farm in einen enthemmten Sexrausch stürzt.
Zebedy Colt besetzte als Regisseur, Autor und Schauspieler von 'Roughie'-Pornofilmen eine so obskure wie wundersame Nische: Seine gleichermaßen von Gewalt und Camp durchzogenen Low-Budget-Werke sind gequeerte Repräsentationen heterosexueller Lebensformen und Neurosen.
Wir freuen uns, einen frischen HD-Scan der letzten erhaltenen Materialien des American Genre Film Archives (AGFA) zeigen zu dürfen, und bedanken uns beim Black Sheep und beim AStA Paderborn (@asta_uni_paderborn) für die tolle Unterstützung.
—
Enter the circle! At the Black Sheep (@blacksheeppb) in Paderborn we'd like you to help us conjure up the folk horror film THE DEVIL INSIDE HER from the dark corners of the forest. In a pre-show program we'll have blasphemous 8mm screenings and an introduction. Afterwards: Music!
New England, 1826: Faith loves Joseph, but her jealous sister Hope summons a well-endowed forest demon which throws the inhabitants of a farm into an uninhibited sex frenzy.
As director, writer and actor of hardcore 'roughies', Zebedy Colt occupied a niche as obscure as it is wondrous: his low-budget works, equally infused with violence and camp, are queered representations of heterosexual lifestyles and neuroses.
We are pleased to show a fresh HD scan of the last surviving materials from the American Genre Film Archive (AGFA) and would like to thank the Black Sheep as well as the AStA (@asta_uni_paderborn) of the University of Paderborn for their amazing support.