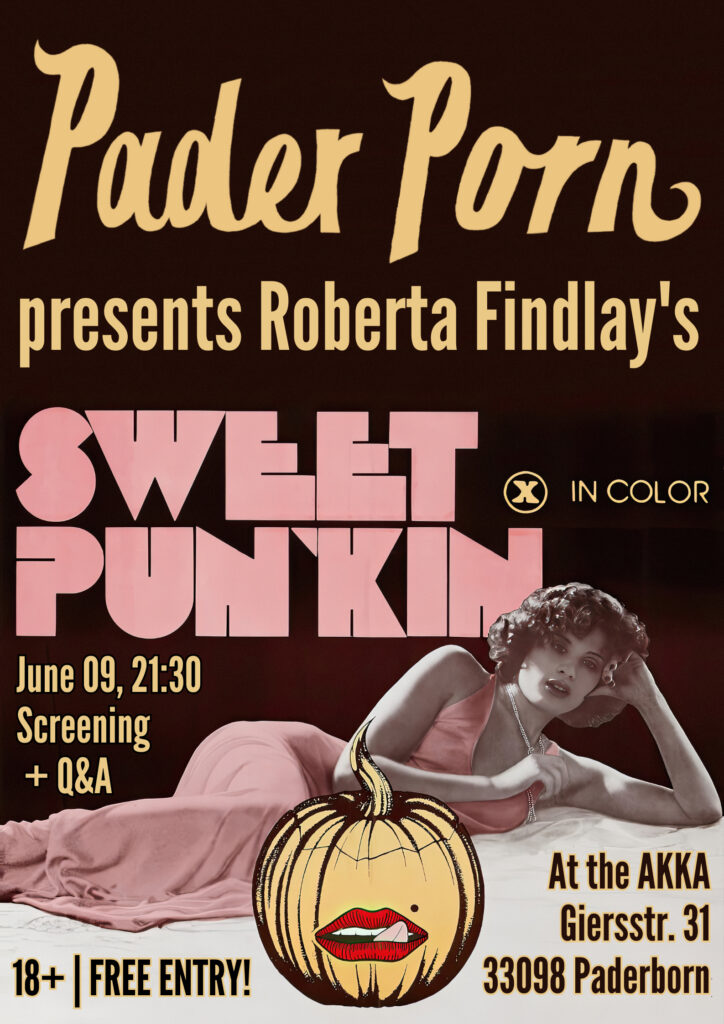 Wir schätzen uns überglücklich, an diesem Freitag (09.06.23) den Filmjournalisten André Malberg in der AKKA Paderborn begrüßen zu dürfen. Er präsentiert mit SWEET PUNKIN' I LOVE YOU… (1976) einen seiner Herzensfilme und wird in seiner Einführung und im anschließenden Q&A neben der Verleihgeschichte US-amerikanischer Pornos in Deutschland auch über die faszinierende Regisseurin Roberta Findlay erzählen, der an diesem Tag ein studentischer Workshop an der Universität Paderborn gewdimet ist.
André Malberg über den Film:
"Die Leerstelle auffüllen, die das alte Hollywood zwischen eindeutigen Blicken und unmissverständlichem Sex im Off der Inszenierung hinterlassen hat – so könnte man den Ansatz von Roberta Findlays verspieltestem Film bezeichnen. Die saftg-frivole Südstaaten-Familiendynamik von DALLAS oder DYNASTY before it was cool. Der Opa ist dauergeil, C.J. Laing vermisst Tony 'The Hook' Perez und John Holmes in einem Kampf der größten Öltürme mit dem Mund. Und um sie herum zündet ein unablässiges Feuerwerk an Reminiszenzen und Verweisen auf das goldene Zeitalter, welches sich hier auf elegante Weise mit zeitgenössischer Drastik in der Schilderung des Menschlichen und Allzumenschlichen vermischt."
Wir starten ab 21:30 Uhr und bringen danach noch Zeit mit für einen schönen Ausklang in der AKKA. See you there!
---
We are very fortunate to welcome film journalist André Malberg at the AKKA Paderborn this Friday (09.06.23). He presents SWEET PUNKIN' I LOVE YOU… (1976), one of his favorite films, and in his introduction and subsequent Q&A he will talk not only about the distribution history of US porn in Germany but also about the fascinating director Roberta Findlay, who's the subject of a day-long workshop with students at the University of Paderborn.
André Malberg on the film:
"Filling the void left by old Hollywood between unambiguous looks and unmistakable sex off-screen – that's how you could describe the approach of Roberta Findlay's most playful film. The sappy, frivolous Southern family dynamic of DALLAS or DYNASTY before it was cool. Grandpa is permanently horny, C.J. Laing misses Tony "The Hook" Perez and John Holmes in a battle of the biggest oil derricks with his mouth. And around them ignites a ceaseless fireworks of reminiscences and references to the golden age, which here elegantly mixes with contemporary drastic in the depiction of the human and the all-too-human."
We'll start at 9:30pm and bring some time afterwards for a nice wind down at the AKKA. See you there!